This week on WHITEBALLOON INSIGHTS we hear from Caroline Jones about how creativity, connection and community have shaped her life and work.
Q: The combination of digitalandstone and The Tree of Life Memorials is a lovely concept. We would love to hear about what led you to the create them.
About 8 years ago I got a commission through the Getty Museum and their education department. The client had lost their mother who was a teacher and of Russian Jewish decent. We worked together to secure a beautiful marble stone from a stone dealer their father knew. Within the stone itself was the strata and veining of a tree form, so I just did my best to carve the tree out of the stone. The Tree is a symbol of so many things, The Tree of Knowledge, The Tree of Life, it represents Wisdom, Eternal Life, Strength and Protection.
As I spent time with the family, I listened to their stories about their mother, and clearly felt that the act of creation went beyond myself and the client, and even the magic of creativity. I became part of this silent communion where I was working not only as the artist but also as a medium of connection for both the grieving and the departed. I wanted to infuse the stone with the stories being told and the sentiment being expressed, and from that point on set about trying to figure out how to do that – and that's the inception of digitalandstone and The Tree Of Life Memorials.
Q: It feels like connection, community and storytelling are very important to you, and the digital element of what your offer, creating an online place to collect memories and to visit after a death, fulfills these elements?
Yes, essentially, something that so often happens around the death of someone is that the community of which they might have been the centre gets disbanded. Even if the loved one isn't the centre of that community, so much can be shared about the loved one's life that the rest of the family and friends did not know.
Through collecting the stories and memories and sharing them through the digital Tree of Life, a more complete life story is told and the connection to the loved one lives on through the heart and minds of those who knew them from all sorts of different stages and times of their life.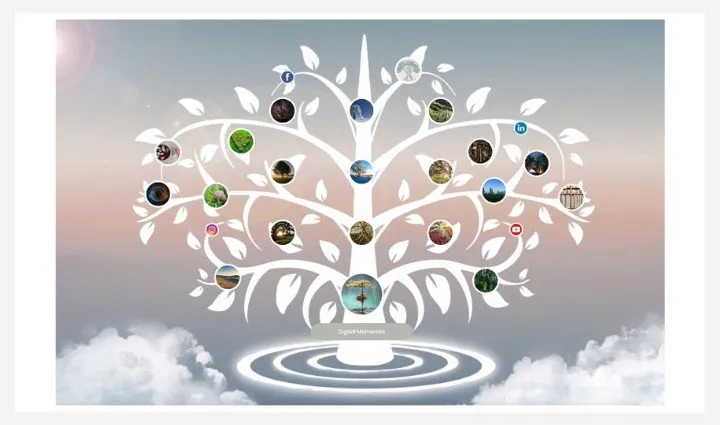 Q: You are an artist too. In your website video you describe carving as 'removing to release what's within', which is a beautiful idea. Tell us about the artwork you create and how physical memorials can be linked to the digital memorial via QR codes and GPS coordinates.
I have been a painter and sculptor most of my life and my journeys have been across lands, surfaces and the mind. I came to sculpting when I was pregnant with my first child, and it seemed natural and apropos to explore the organic form hidden within the stone.
Stones and their presence have been a preoccupation of mine since I was a small child. Forever I've been fascinated with what is held within a stone, what stories or spirit or captured time is represented. Throughout history man has related to stones – for tools, for art, for monuments, for ancestor worship and celestial notation. Using GPS coordinates or a bronze QR code to connect the story of someone's Digital Memorial to their burial ground, and to show the burial location within their Tree of Life, is a wonderful contemporary way to express what is represented by all of that.
Q: Similarly, with Land Memorials, these can be recorded in The Tree of Life too. Why is this an important aspect of the service you offer?
The land Memorials represent an opportunity for us all to share our environmental legacies, and to encourage others to do the same in our name. We offer a place to record all one's environmental initiatives as a life story unto itself – so the times you donated to the conservation society or the wildlife fund, or planted a tree, or went on an eco friendly trip, these can all be featured on your land memorial page. We partner with different groups and are constantly expanding our networks so you and your loved ones can honor someone's memory by conserving land in their name or planting trees in their name and then growing their Tree of Life through their Land Memorial. It's a way to create your story around your involvement with nature and conservation. We want to do all we can to make sure that we leave the planet a better place and that our roots run deep from this life to the next.
Because the planet is so important to us, we have recently added the benefits of conserving land and planting trees from directly within the New Digital Memorial Plus+ as a way for friends and family to do something in memory of their loved one – whether they have a Land Memorial page or not.
Q: At the moment you are based in the USA. Do you feel that both the USA and the UK are at a similar point in their exploration and development of 'digital death and afterlife'?
I think the two countries have a different historic relationship with death and the afterlife and that affects their current standing with the future exploration and development in that space.
Native Americans who inhabited the land long before the Anglo or Euro-Americans did, have a clear and different view about memorializing their loved ones – in fact they don't believe in that process the way the European traditions do. Memorialization is seen as a way to impede the onward journey of the spirit to star camp by calling back the spirit of the dead, and so monuments, markers, and places of worship for the dead do not exist in the way they do in UK/ Europe. The story of the cemetery and its place in the community as a way to memorialize and house the deceased in America was born from the collective organization and corporatization of the death industry from the late 1800's. It is not a historic pattern or ritualization.
I would say the development of the digital death and afterlife is more advanced in a commercial way in America with the investment by big tech finance, whose interests are more on offering a free service for the data and user acquisitioned benefits. I do not see those same digital memorial sites as having their clients revisiting them after the initial set up. The UK and Europe are a smaller but growing market and I have faith in the value proposition of independent companies like digitalandstone and The Tree of Life Memorials, growing the UK market and developing an awareness and a ritual orientation around digital memorials. By building a sacred yet familiar space in digital form and combining environmental legacies; the possibility of using digital technology and digital media as a way to tell and share our loved ones' stories ties together the historic relationship we have with the land and the sense of place or home for the dead.
Q: I am sure that your work keeps you very busy, but have you had time to explore the USA whilst you have been there?
My work and my kids have kept me busy and ensured I didn't travel as much as I used to in the earlier half of my career, where I travelled extensively for 14 years through Asia. Journeys have always been the source of inspiration for my work and I have spent a large amount of time travelling close to LA through the Mojave desert and Joshua Tree national park, painting and sculpting a large series of work called "Formations".
Joshua Tree hosts one of the few Green burial grounds near here, and the Joshua Tree National Park Association is about to launch our Park Guardian program – where we conserve and preserve the park through donations in honor of a loved one. We look forward to rolling out that model across the UK and the USA working with Parks and National Trusts, Conservation groups and wildlife projects.
My youngest child has just started university in Scotland so I see myself travelling again and look forward to working closely with many in the UK market as partners, clients and friends aligned in caring for our loved ones at the end of life and after life.
Q: And finally, do you have a favourite book or author that you return to for inspiration, insights, or perhaps just for entertainment?
Nature is my personal heaven – I always return to the outdoors, a good walk in the hills, a swim in the sea, spending time amongst the trees, sitting, painting, meditating, travelling through landscapes; it's the one constant in my life and always the source of inspiration, comfort and sense of awe.
One of my favorite books is "Sacred Earth Sacred Stones – Spiritual Sites and Landscapes, Ancient Alignments, Earths Energy Lines" by Brian Leigh Molyneaux and Piers Vitebsky – just a great amount of reference material, images, text and historic interpretations of our relationship with the earth and its materials and how mankind has built, worshipped and united a sense of something beyond ourselves with the Divine. Oh and Robert Pogue Harrison's "The Dominion of the Dead" is a great book to ponder the places where the dead cohabit the world of the living. One of my favorite poems is "The Layers" by Stanley Kunitz, it makes me cry with its profundity.
Thank you Caroline for sharing your insights.