This week on WHITEBALLOON INSIGHTS Mark tells us how his passion for good food and great beer inspired him to open gastropub Le Gothique.
Q: Le Gothique opened in 1987 and was London's first genuine gastropub. We would love to hear more about how this new concept of serving high-quality food in a pub setting came about.
Many people would be surprised that back in 1987 very few restaurants opened on Sundays. And not very many pubs sold food. Those that did closed at 10.30pm each evening and 3pm on a Sunday (by Law). I remember working out in advance if I could take my girlfriend to a neighbouring restaurant and leave by 10.30pm in order to catch "last orders" at the local pub. So, I decided that when I opened MY place it would serve both food and beer until 12 midnight with what was called then, a "Supper Hour" extended licence. And thus the gastro pub, and Le Gothique, was created. A haven for both food AND beer. And by beer, I mean traditional cask ale on draught from a hand pull.
Q: And the building is truly stunning, with towering turrets and spires. It must have a long and colourful history?
Completed in 1859 this stunning building was officially opened by Queen Victoria . Originally a purpose built orphanage for dependents of servicemen lost in the Crimean war. The building was requisitioned in 1914 becoming the Third London General Hospital. The walking wounded and shell-shocked victims of the trenches recuperated here disembarking from troop carrying trains at a specially constructed halt in a cutting at the front of the building. A selection of pictures of the building around this time can be viewed on the walls of Le Gothique's main bar.
Between the wars the orphanage re-opened before finally closing down on this site in 1938. But as one chapter closed another opened. The Second World War saw occupation of the building by M.I.5, M.I.6 and M.I.9. and use as a detention and interrogation centre. In all, 20,000 refugees fleeing Northern Europe passed through the building (then known as the London Reception Centre) on their way to a new beginning in Britain. Most were genuine but in amongst them were spies and fifth columnists. Rudolph Hess was kept for several days in the cellars below Le Gothique following his ill-fated attempt at brokering a cease-fire.
In the 1950's the building was bought by the London County Council for use as a school, but despite it's grade II (star) listing it fell into disrepair. The present re-birth with mixed use and residential occupancy is entirely the result of entrepreneur Paul Tutton who bought the building in the 1980's and renovated and restored the building after purchasing it for just £1.
Q: Le Gothique's high-gothic Victorian architecture makes a wonderful backdrop for all kinds of events, including parties, wedding receptions and 'celebration of life' ceremonies. Are people also able to hold a funeral service at Le Gothique with the coffin present?
Yes we are one of the very few venues with no problems having the casket here with us on site.
Q: You have an in-house celebrant who can conduct services and liaise with the local crematoriums. It must be extremely helpful for families and friends to have someone knowledgable to give advice and help with logistics?
Yes we always use Phil Walder, who is simply marvellous.
Q: There are a number of beautiful rooms and a wonderful hidden courtyard. How are these spaces used and what sort of numbers can you accommodate?
The "secret garden" which is in an internal quadrangle within the building has a capacity of 150 under a canopy that can be heated and lit if necessary. Internally there is space in the Gothic Bar (60) and the mezzanine floor restaurant (90).
Q: Of course, the food and wine is a really important part of your offering, with a variety of menu options available. This flexibility must help when tailoring an event to meet the needs of the hosts?
We really have a menu option for everyone from basic rounds of sandwiches through to seated 3 course menus. With buffets, bowl food and canape options along the way. No budget is too small. We are VERY flexible.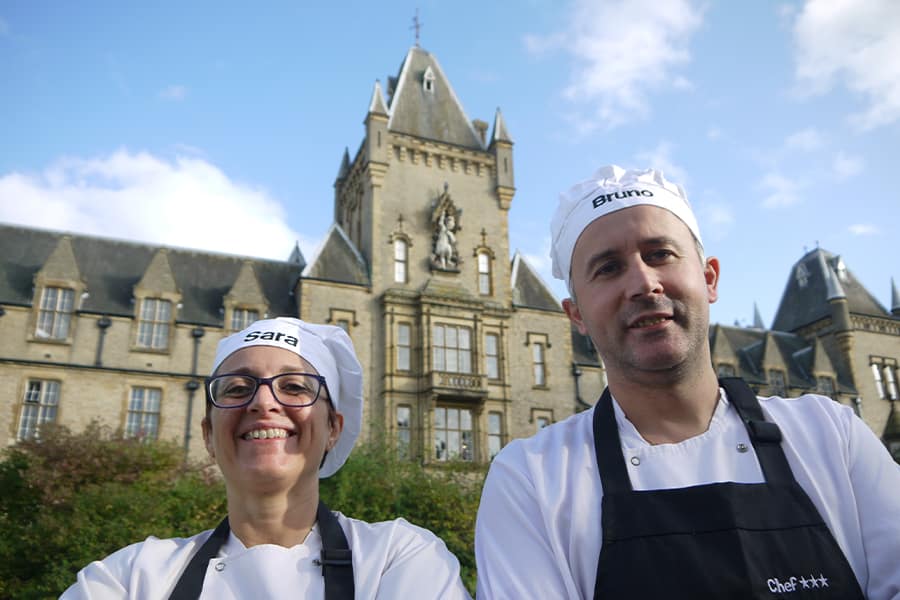 Q: And finally, working in such an old and historic building must inspire you to visit other London landmarks. Do you have other favourite places to wander round and explore in your spare time?
I am what they call a "ticker". That is to say I travel around London and the UK as a whole ticking off public houses that I have visited. Currently 2,500 have been recorded and photographed. But I still have a long way to go as there are 40,000 pubs in the UK.
Thank you Mark for sharing these insights